Top 4 Beautiful Gardens in Ooty
As Ooty is a prominent tourist destination of South India, Tamil Nadu Tourist Development Corporation has taken many initiatives for the further beautification of this hill station. As a result, many gardens or parks are developed as remarkable tourist attractions of this place. There are four major gardens that hardly any tourist can imagine to drop from their lists of sightseeing during Ooty trip.
1. Ooty Botanical Garden
Ooty Botanical Garden : This huge botanical garden was designed in 1848 at the lower slopes of Doddabetta Peak, the highest mountain of Nilgiri Hills. This terraced garden of 55 acres is arranged in six sections according to the plant types and the layouts; namely Low Garden, New Garden, Fountain Terrace, Italian Garden, Conservatory and Nursery. The Lower Garden comprises the vast green lawn of special grass, fern house and many special trees that rouse the interests of the botanists.
New Garden is the most recently developed space, containing a rose garden with many hybrid roses, flowerbeds with many suitable flowers, a few naturally existing ponds and Carpet-bed containing the Government emblems. Italian Garden was so named as it was created by the Italian war prisoners of World War I and now it contains numerous flowering plants of all notable species and a crescent-shaped lily pond with many other aquatic plants. Conservatory section was created on 1912 for the group cultivation of different types of annual and perennial flowering plants. The Nurseries are created on the higher terraces and contain eight glasshouses to grow various species of cacti, orchids and other potted plants.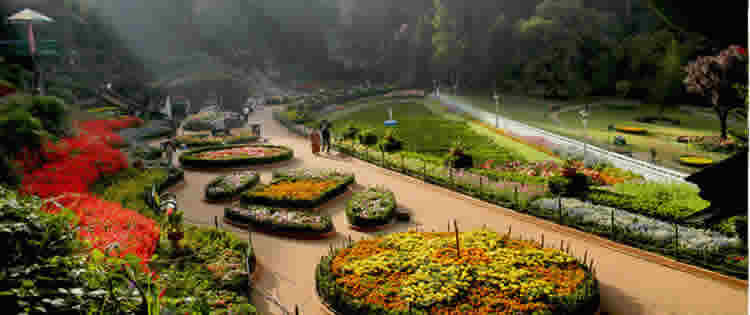 2. Rose Garden
Rose Garden : Government Rose Garden was established on 1995, over the terraced slopes of Elk Hill in Vijayanagaram area of Ooty. Since the climate and the soil of these curved terraces are ideal for rose cultivation, more than thousands of rose varieties can be seen in this garden. The tourists enjoy the sight of numerous rose plants of many unique natural and hybrid types in this garden all through the year. There is a beautiful white marble statue of an angel erected among the exemplary riots of colors of the roses, including even the extraordinary green and black roses. There is an observatory platform on the higher slope named as Nila Maadam, from where the whole garden can be viewed at once..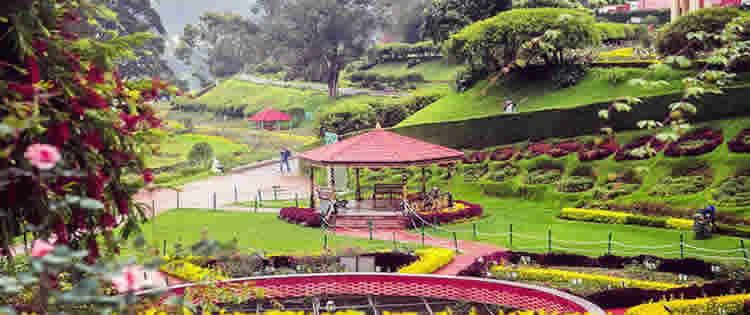 3. Sims Park
Sims Park : Sims Park is a popular tourist attraction that is based at Coonoor, which is only 20 Km away from Ooty town. This park cum botanical garden spread over 12 acres of land was developed on the higher slopes of Nilgiri Hills. The ideal climate of this region helps in the natural growth of sholas trees, Rudraksha bead tree and many rare varieties of pines, ferns, magnolia and other interesting botanical species. There is a large glasshouse in this park, where many flowering plants and ornamental plants are specially cultivated. The tourists also enjoy the sight of a beautifully maintained large rose garden at one end of this park.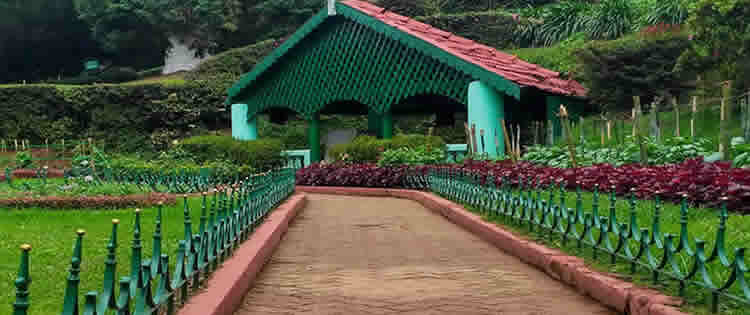 4. Kattery Park
Kattery Park : Kattery Park is an amusement park that is developed adjoining the Kattery Falls, which is known to be the third largest waterfalls of Nilgiri Hills. This park contains many exciting rides for the kids and a water park, which is adored by both adults and the children. The route to this waterfall and park needs trekking amidst light forest area with the beautiful picturesque scenery.