Most Famous Waterfalls of Ooty
Ooty or Ootacamund is the most prominent hill station of South India, which is flocked by numerous tourists throughout the year. As this town is based on the slopes of Nilgiri Hills, there are numbers of waterfalls descending from different peaks of this mighty mountain range.
Some of these waterfalls have given rise to perennial lakes and rivers in this region, supplying water and hydroelectricity here. Most of these falls are major points of tourist attractions, boosting the tourism industry of Tamil Nadu.
1. Catherine Falls
This waterfall is located at Kotagiri that is only 16 Km away from Ooty town. This fall was named after the wife of a British coffee planter, who founded the coffee plantation of this region. This water cascade is locally named as Gaddhehaada Halla and it has descended from a height of 250 feet to flow away in the form of Kallar River. Apart from the natural beauty of this falls, the adventurous trekking route that passes through a forest of Shola trees is also highly attractive to many tourists. This falls can be seen most clearly from the Dolphin's Nose View Point.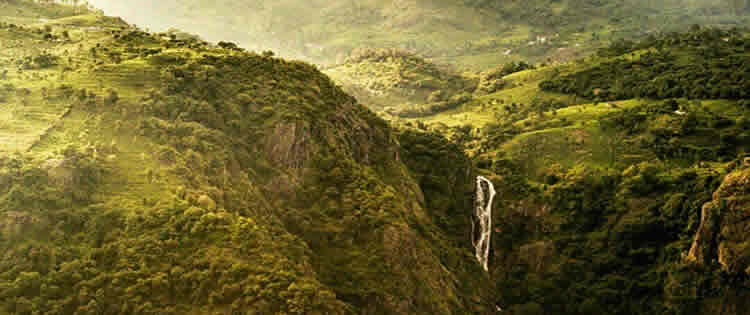 2. Pykara Falls
This fall is located at a distance of only 23 Km from the heart of Ooty town. Actually, Pykara River descends in the form of two branches from heights of 55 Km and 60 Km, to form this popular waterfalls, which is only 2 Km away from Pykara Lake. The tourists love to watch this magnificent falls among the natural greenery of dense forest area and the sharp descend of the waters through the rocky beds. Since it is a river-fed falls, the best time to see it is the month of July, during the full height of monsoon. Now a parking space is created for the convenience of the tourists that is just around 10 minutes walking distance from the falls site.
3. Kalhatti Falls
This fall is located just 14 Km away from Ooty town, on the way to Mysore. The wild flora and fauna available in the dense forest surrounding this falls is the main attraction of many tourists, who love this trekking route due to the mesmerizing scenic beauty. The water cascades falling from a height of 40 meters is surely included within the tour schedule of most of the people heading towards Ooty for their vacations. This viewpoint of the falls also serves as a favorite picnic spot for many nature-lovers.
4. Katery Falls
This fall is considered to be the third largest waterfalls of Nilgiri Hills, which is now used for generating hydroelectricity by Tamil Nadu government. It descends from a height of 55 Km from the mountain peak and the tourists need to trek a long way through the forest to reach it. Actually, this falls is located at Coonoor, which is only 20 Km away from Ooty. The mass of this water cascade is greatly boosted during the rainy season, which becomes an amazing sight for the tourists. The climate remains very pleasant here all through the year.
5. Law's Falls
This is another famous waterfall that is 10 Km from Coonoor town, where River Coonoor descends from a great height to form this magnificent falls among the wild rocky area. This fall is named after the creator of Coonoor Ghat Road, which has made the connectivity of this place much easier now. This place is a heaven for the nature photographers, due to the availability of plenty of amazing sceneries all around the falls. This waterfall site is well connected to Coonoor town by road and huge numbers of tourists visit here during the monsoons. They also like to include other nearby tourist attractions in their list of sightseeing, like Droog Fort, Sim's Park, Lamb's Rock, Hidden Valley and the Memorial Pillar of World War II.
6. Kolakambai Falls
This is a totally unbroken waterfall that descends sharply from a height of 400 feet, which makes it an amazing sight for the viewers. This falls is known to be the highest among the numerous waterfalls of Nilgiri Hills. It descends from the northern side of Kolakambai Hill, which is an important peak of Nilgiri Hills range. The way to this falls is popular for hiking, trekking and biking through the wild area full of natural flora and fauna that is typical of this mountainous range. This place is closer to Coimbatore, for which many tourists land in Coimbatore airport for enjoying the beauty of this falls. Various parks, lakes and other falls of Ooty region are easily accessible for the tourists from here.
7. Halashana Falls
This fall is fondly called as Oteh Kodaaru in the local Tamil dialect. It is located at a height of 150 feet above the sea level and the huge volumes of water come down the Nilgiri Hills so sharply that it has naturally created a deep and large hole on the rocky ground due to this water pressure. It is quite dangerous even for sightseeing and the common tourists are advised to lie flat on their backs to have a nice look at this great rush of water coming down at terrible speed. Actually, this fall is located within Kollamuby Estate, which is a private property and thus the tourists need to take prior permission for visiting this site.
8. Elk Falls
This popular waterfall of Nilgiri Hills is located at Uyilathi Village of Tamil Nadu, so it is also locally known with the same name as the village. This fall is only 7 Km away from Kotagiri and the tourists can enjoy the air of an ancient period, by staying at the old British cottages of this village, which are specially developed for comfortable tourist accommodation. The tourists also visit the European House that was constructed close to this falls on 1819, by a British collector of this colonial state and now it is preserved as a historic building. Many tourists also prefer to visit this place while staying at Kotagiri, which is in close proximity to Ooty town.