Ooty train Timing & Entrance Fees
Train
07:10 am to 04:30
145 /-
31 Tips
How To Book Ooty Train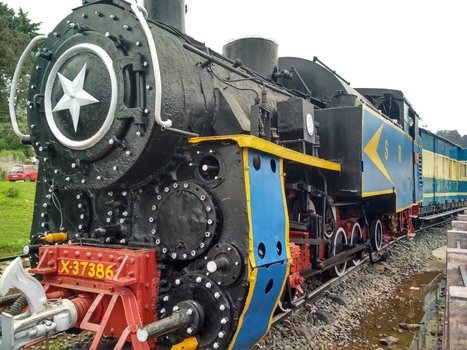 Three Ways to Book Ooty Train Tickets
Book it Online from IRCTC Website
Book it from Direct Counter
Book it from Travel agency
Book it prior at least 2 months before
You can now book Ooty Train Tickets in WhatsApp and Email , just send your exact travelers name,age and gender with trip date, we will block the tickets for you with booking service charges. Only on availability
Whatsapp to 9941133133 or mail to travel2ooty@gmail.com
Special Trains Available on every Saturday from Mettuplayam to Ooty, starts at 9:10 am in Mettuplayam and reach Ooty at 2:25 , 5 Hrs 15 Min Journey Time
Ooty Toy train ticket tarrif
| | | | |
| --- | --- | --- | --- |
| Train No | Train Name | First Class | Second Class |
| 56139, 56137 | Ooty to Coonoor | Rs 450 | Rs 250 |
| 56137 | Ooty to Mettupalayam | Rs 700 | Rs 395 |
| 56136 | Mettupalayam to Coonoor | Rs 545 | Rs 290 |
| 56136 | Mettupalayam to Ooty | Rs700 | Rs 395 |
Ticket tarrif last updated on 09/16/2022
Things to Carry on Train Travel : Make sure you have your tickets printed if you have booked it online, at least the SMS of ticket confirmation on your mobile, Need at least any one government id proof to be shown on request by the ticket collector
Train Route from Ooty to Mettupalayam
Udagamandalam -> Lovedale -> Ketti -> Aravankadu -> Wellington -> Coonoor -> Mettupalayam
Ooty to Mettupalaym Train Timings
| | | | |
| --- | --- | --- | --- |
| Train No | Departure | Arrival | Travel Time |
| 56137 | 14:00 | 17:35 | 03:35 |
Mettupalayam to Ooty Train Timings
| | | | |
| --- | --- | --- | --- |
| Train No | Departure | Arrival | Travel Time |
| 56136 | 07:10 | 12:00 | 04:50 |
Ooty to Coonoor Train Timings
| | | | |
| --- | --- | --- | --- |
| Train No | Departure | Arrival | Travel Time |
| 56139 | 09:15 | 10:25 | 01:10 |
| 56137 | 14:00 | 15:05 | 01:05 |
Coonoor to Ooty Train Timing
| | | | |
| --- | --- | --- | --- |
| Train No | Departure | Arrival | Travel Time |
| 56136 | 10:40 | 12:00 | 01:20 |
| 56138 | 16:00 | 17:15 | 01:15 |
The Nilgiri Mountain Railway (NMR) is a world heritage train which attracts numerous tourists travelling to Ooty. Nilgiri Mountain Railway commonly known as Toy train or Nilgiri passenger travels between Mettupalayam to Ooty daily and it covers a distance of 26 km and passes through 208 curves, 16 tunnels and 250 bridges. It almost takes around 4 to 5 hours to reach Ooty from Mettupalayam via toy train. The train starts from Mettupalayam railway station and passes through Hillgrove railway station, Coonoor railway station, Wellington railway station, Aruvankadu railway station, Ketti railway station, Lovedale railway station, and finally reaches Ooty also know as Udhagamandalam railway station.
If you want to reach Ooty quickly, then the best way to travel is by car. The road journey by car from Mettupalayam to Ooty takes around only 2 hours. Avail
Mettupalayam to ooty cabs
at low-fare.
Ooty toy train was built by the British in 1908, and was initially operated by the Madras Railway Company. The Nilgiri tiy train if renowned among tourist and it will be a great to travel in Ooty train. The entire Nilgiri Mountain can be viewed which gives a delight to your eyes.
Which Is The Difference Between First Class and Second Class?
First Class you can avail front view and seats are kind of sofa type, second class will be normal two sharing seats
Ooty train also called as The Nilgiri Mountain Railway (NMR) built in late 19th century still running under the gradient of 1 in 12 and has 208 curves with 13 tunnelsand Ooty toy train built in late 19th century still running under the gradient of 1 in 12 and has 208 curves with 13 tunnels